Hello,
I use on my site and I have v1.0.4 http://www.board3.de/ these 2 icons: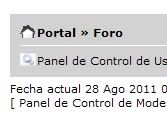 Hello, icon
and I like that in your forum:
Please can you help me and tell me how I could put it on my forum to look like yours?
I use the same style as you, the proformell ....
Thank you very much and I look forward to your response ...
Greetings from Spain